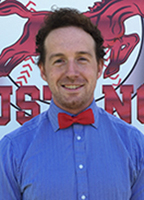 Ky Turner
General Manager
Phone:
816-294-5250
E-mail:
Ky is a St. Joseph native, a Benton High School graduate. He is a graduate of the University of Missouri. Ky's wife is Krystin, and has four children- Klarabelle, Kyber, Krosby and Kauffman.

Ky has a worked in many different capacities. He has worked with the Olathe KS CVB, where he assisted in managing the Garmin Marathon. He has worked for the Kansas City Chiefs and the Kansas City Royals. He has also been involved in marketing with the University of Missouri wrestling team.

Ky spent 5 years as Director of Fun, overseeing the nightly promotions, and currently serves as the General Manager of the Mustangs.

"Having three children of my own, I know the struggle of finding a fun, family friendly, and affordable summer entertainment," said Turner. "I can guarantee you that you won't find a better family fun night than a night with the Mustangs."